Spinal Decompression Machine - Antalgic-Trak
The First Major Improvement to Power Traction in 50 Years
"If you have the desire to include superior spinal decompression therapy (in your clinic or hospital), then don't settle for the outdated, one dimensional, "Flat Table" systems. Let your patients experience the advanced clinical benefits of multi-axis postural-positioning traction. Only the Antalgic-Trak allows you to move the spine through a variety of postural ranges during the decompression."
For those seeking a combination of excellent clinical outcomes along with a unique marketing impact, the Robotic Antalgic-Trak Technology is the answer. We are the power traction system of the future and the only power decompression in the world that has a dual (cervical and lumbar), 10-way spine positioning system. Think of the possibilities!
This decompression machine is the first major evolutionary improvement to non-surgical power traction in 50-years. We've combined our computerized lumbar and cervical power traction technology with our patented articulating multi-axis positioning system. Together, this spinal decompression device can provide a soothing and gentle vertebral, disc and facet traction.
THE GOLD STANDARD
There has never been a therapeutic treatment instrument like the Antalgic-Trak. With the ability to convert from a lumbar treatment to a cervical treatment and 10-way articulation, it makes everything else obsolete.
---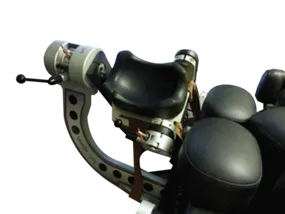 Our unique system includes our patented spinal power traction system...plus our multi-postural and positioning features that include:
Lateral flexion
A/P flexion-extension
A/P translation
Vertical elongation
ROTATION
---
How Can Antalgic Trak a Spinal Decompression Machine Help Patients?
Spinal decompression machines, (like Antalgic-Trak), are designed to provide gentle and effective decompression therapy to the cervical and lumbar spine. With the Antalgic-Trak's advanced postural-positioning capabilities, our spine decompression machine helps to relieve pain and discomfort associated with necks and back conditions... including herniated discs, sciatica, spinal stenosis, and degenerative joint disease. It also can help restore normal vertebral movement and flexibility as it reduces inflammation.
Unlike the older "flat-table" spinal decompression machines, the multi-axis positioning features of the Antalgic-Trak system allows you to create a more customized and comfortable treatment posture and session. It does this by using the cervical and lumbar multi articulation features. These features enable the doctor to posture position to improve decompression targeting. They can also be used to perform passive spinal range-of-motion movements.
The Antalgic-Trak spinal decompression system can help patients achieve the desired level of relief. With its computerized lumbar and cervical power traction technology, you can easily adjust the parameters for each patient's exact needs. This helps to ensure that each patient is receiving an elevated level of care and treatment.
What are The Advanced Benefits of the Antalgic-Trak Spine Decompression System.
Improved patient posturing using the multi-axis posturing sections.
Reduces tension and pressure on spinal discs, nerves, and facets.
Improved flexibility, strength, and coordination.
Reduces pain and discomfort associated with spine related compression syndromes.
Improved quality of life.
Enhanced patient satisfaction, clinical outcomes and patient compliance.
At Antalgic-Trak, we continue to provide the best spinal decompression devices available. With an easy-to-use computer touch screen interface, and the most comfortable patient treatment postures, Antalgic-Trak is the "top-rated" system in the world.
Contact us today to learn more about how our revolutionary "state-of-the-art" decompression system and how it can help you provide better clinical outcomes for you and your patients.
---
Frequently Asked Questions
1.What does Antalgic Trak a decompression do?
A decompression session helps relieve the pain and discomfort associated with cervical and lumbar spinal compression syndromes including disc injury, facet imbrication, nerve root pressures and more by providing gentle and effective spinal elongation therapy. It can also help to restore normal motion and flexibility. With improved mobility, inflammation is also reduced. For detailed information, please get in touch with us today at (800) 792-3575.
2.How long is a spinal decompression session?
Spinal decompression sessions can vary from 15 minutes to 45 minutes, and because cartilage requires 8 to 12 weeks of therapy, most patient begin a therapy program of 8 weeks followed by a re-evaluation to measure progress. However, the exact time and frequency will depend on each patient's unique condition.
3.Does the spinal decompression therapy hurt?
The Antalgic-Trak system is designed to provide a gentle, comfortable, and soothing treatment experience. Our advanced postural-positioning capabilities ensures that you can posture position to create the most comfortable and effective treatment session possible.
4.What conditions can spinal decompression treat?
Antalgic-Trak Technology (ATT) can treat herniated discs, sciatica, spinal stenosis, degenerative joint disease, degenerative disc disease, pinched nerves, facet imbrication, stenosis, scoliosis, osteoarthritis and more. To learn more, please contact us today at (800) 792-3575, or email us at [email protected].
---
Hospital Study Showing Robotic ATT Efficacy in Over 500 Patients

---
Why Get Back Decompression Machine For Your Office? Watch Our Videos!